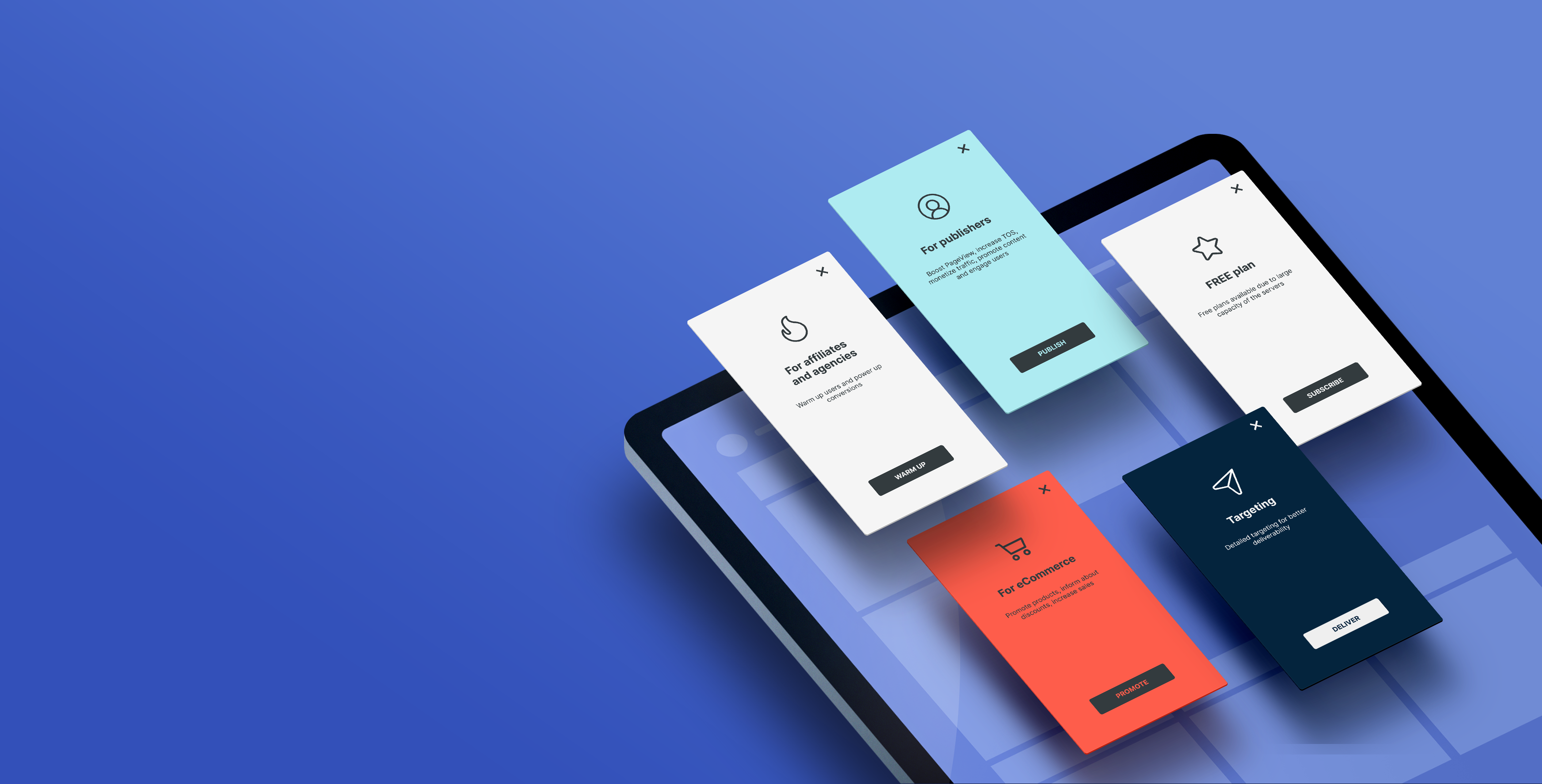 Clear and flexible
web-push service

for webmasters
Increases site performance
Quick and simple setup
Available free plan
Flexible built-in monetization
TEST NOW FOR FREE
Push Notifications
are the must for any successful business
Web pushes are popup messages that appear in-browser, and they are indispensable for the several tasks
Expanding loyal user base

Users who turn on web-push agree to receive notifications. It's a good way to identify potential loyal customers.

Reducing unsubscribe rate

Keep your subscribers' attention and stay relevant - remind them of new posts and important news.

Informing your subscribers

The web push makes mass messages feel personal. Inform customers about what interests them, share special offers - and your notifications would be seen as friendly hints.

Increasing customer retention

A web push helps to gently remind your users of an unfilled form, abandoned shopping cart, or just the fact that you miss them. Retain customers by bringing their attention back to your site.
the Sender solution
for all kinds of partners
For publishers

Boost Page Views, increase TOS, monetize traffic

For eCommerce

Promote products, inform about discounts, increase sales

For affiliates and agencies

Warm up users and power up conversions
Competitive advantages of the Sender
Free plans available
due to large capacity
of the servers

Easy installation and quick setup (+WP plugin)

Detailed targeting for better deliverability

Extended statistics
and analytics

Flexible monetization - get income instead of costs

Schedule and automation

Improved quality of traffic by 37% on average

100% safe. Does not affect the ranking of the site.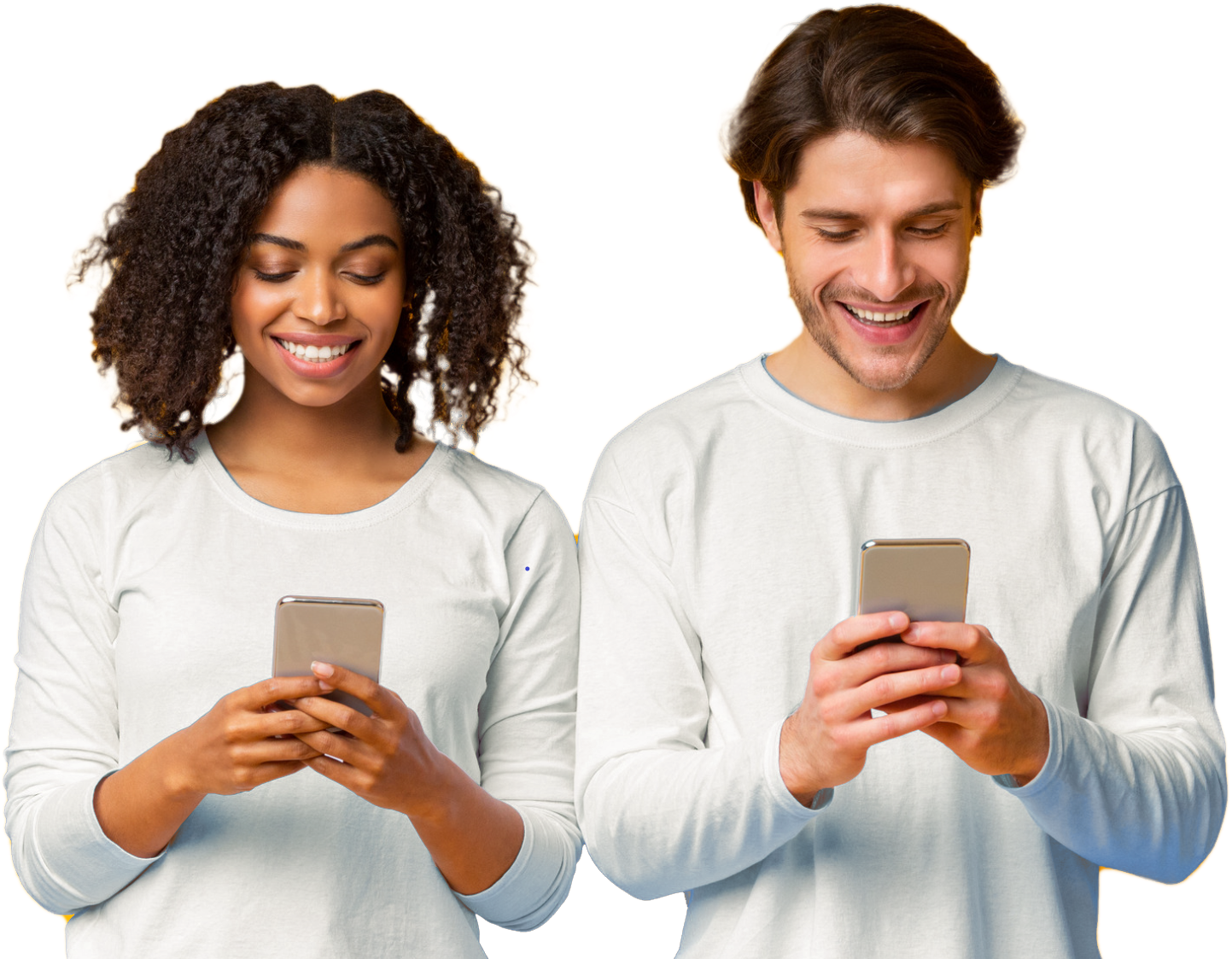 EASY TO USE
the SENDER SOLUTION BY RollerAds
You just create a message and it's ready to be sent - no more complicated than in your favorite messenger.

You can personalize targeting in a few clicks by device, geographical information, operating system, browser and many other options.

Once created, all messages are easy to view and manage in the mailing list.

You have immediate access to statistics with convenient tools for analysis.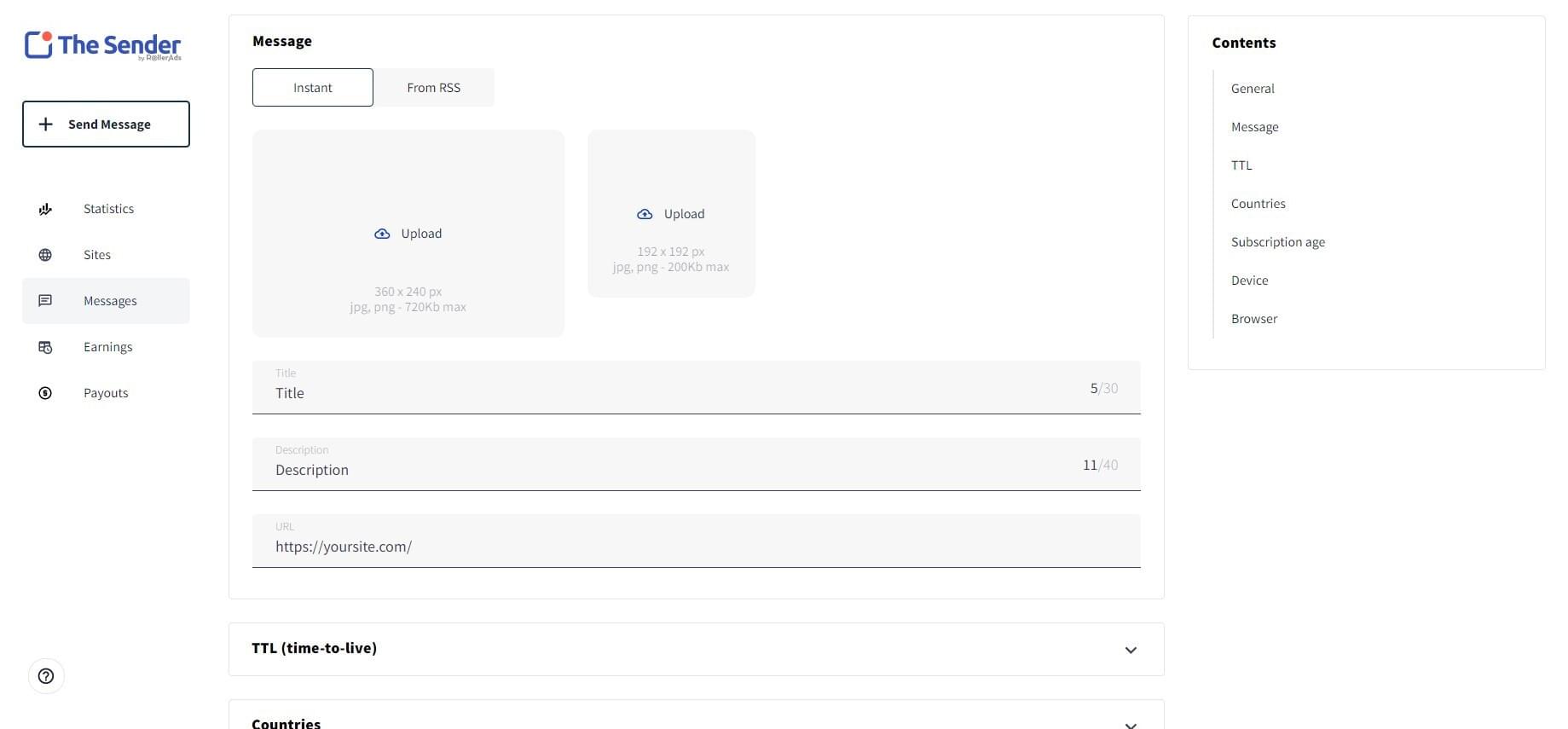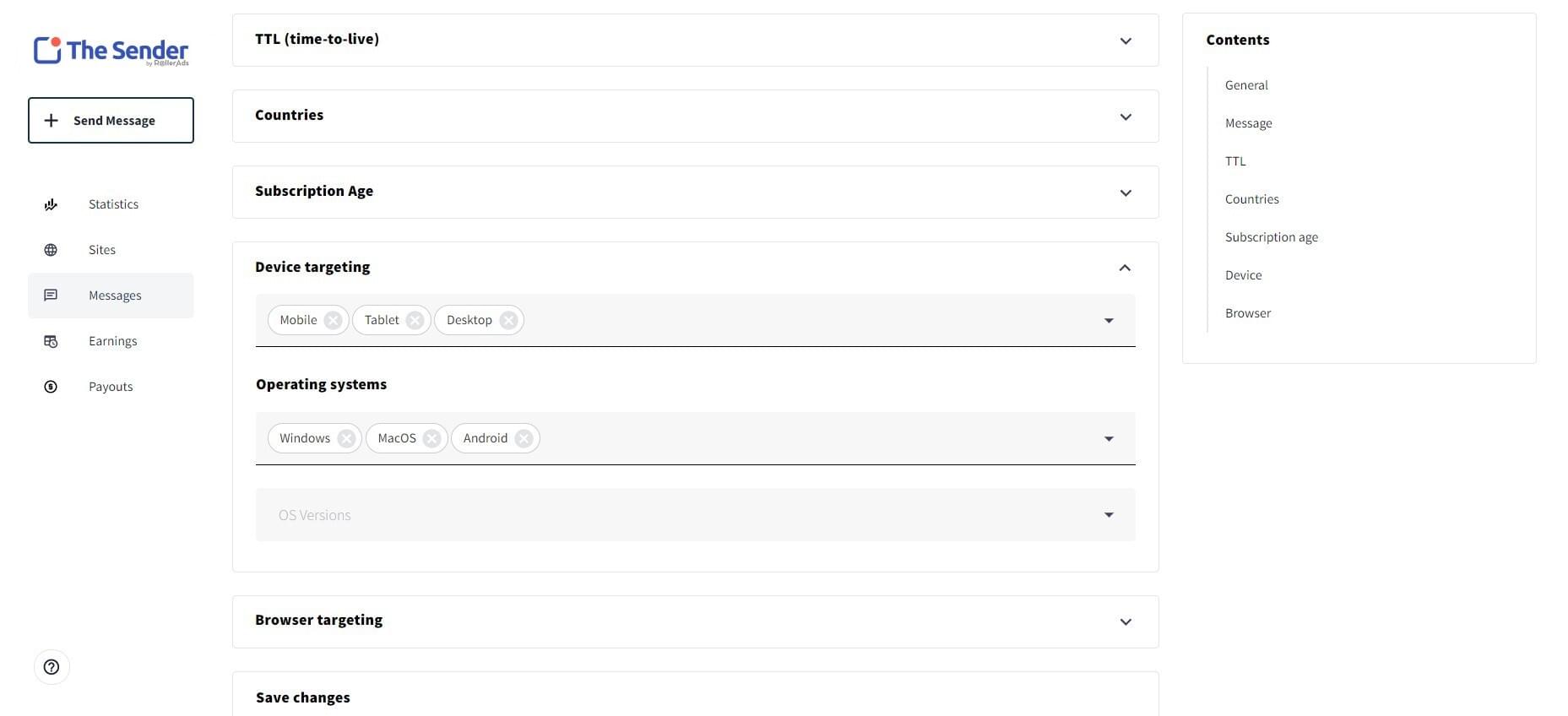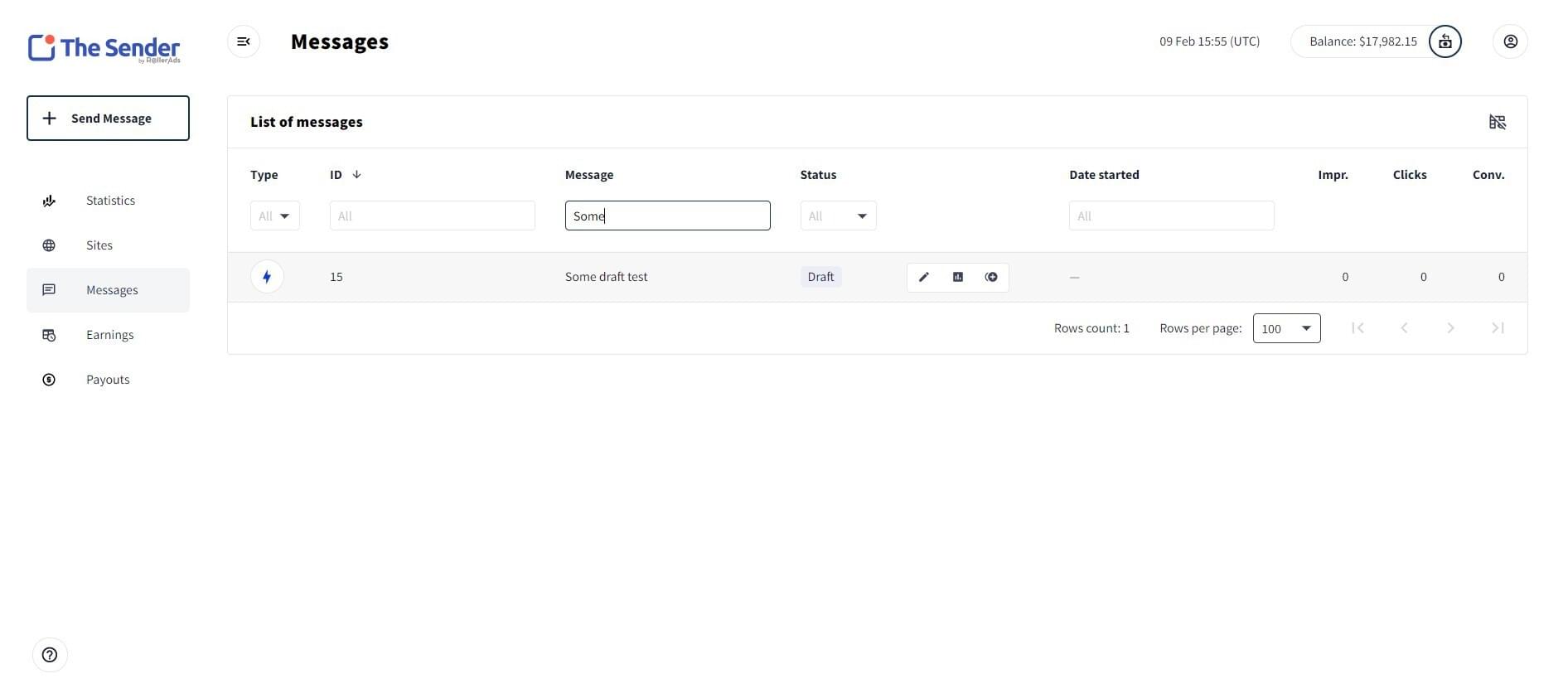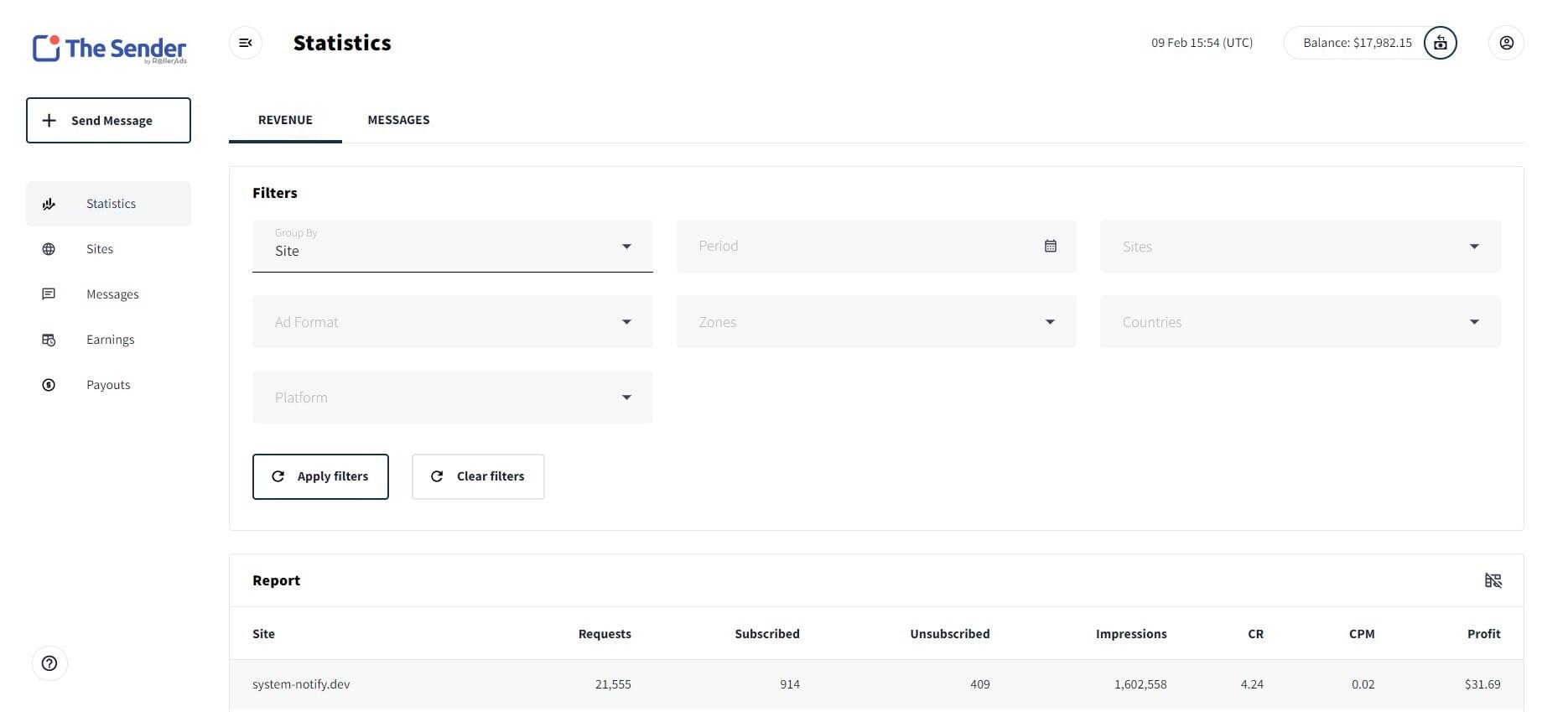 Pricing plans
Choose a pricing plan that matches your needs best!
FREE
Monetize
Enterprise
Extended
Subscribers
Up to 25,000
Unlimited ∞
Up to 200k
From 200k
Messages
Unlimited
Unlimited ∞
Unlimited ∞
Unlimited ∞
Price
0$
0$
9$+2$/1.000

subscriber after 25,000

349$ (TBD)
Monetization
Your choice
Yes
Your choice
Your choice
Target
Basic
Yes ∞
Yes ∞
Yes ∞
Schedule
Up to 3 messages
Yes ∞
Yes ∞
Yes ∞
A\B test
Up to 3 tests
Yes ∞
Yes ∞
Yes ∞
Analytic
Basic
Detailed
Detailed
Detailed
Support
Yes
Personal
Personal
Personal
Additional features
No
Welcome push customization and analytic
Detailed analytic
Deep segmentation
Daily reports
Push tester
And many other
Check price and earn calculator

Unleash the power of web push traffic with The Sender platform.
Fast. Easy. Free.
Sign up now
Latest News
The Sender installation guide

TheSender is a push notification service that allows you to launch in-browser pop-up messages. It is a great solution for publishers, affiliates, and agencies to improve user retention and the overall quality of traffic.

Read more

What is The Sender

There are many services on the market that provide the functionality to send push notifications to the users. Each has its own strengths and weaknesses. And we decided to make our own service for sending push notifications. What are the benefits?

Read more

What is "Push notifications"?

Push notifications are a popular tool for interacting with the audience today. They are short messages addressed to users after opening the site. Visually, this addressing often comes on behalf of the browser.

Read more
View all posts